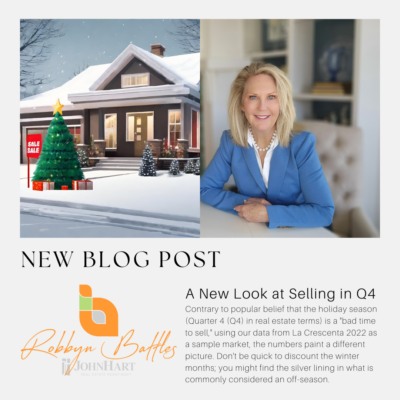 Contrary to popular belief that the holiday season (Quarter 4 (Q4) in real estate terms) is a "bad time to sell," using our data from La Crescenta 2022 as a sample market, the numbers paint a different picture. Don't be quick to discount the winter months; you might find the silver lining in what is commonly considered an off-season. The less competition there is, the more eyes will be on your property. Now, let's break down the numbers for each quarter to better understand this phenomenon.
Quarter 1:
Listed: 97 homes
Expired: 9 homes
Canceled: 9 homes
Explanation: "Expired" means the property was listed for 90 days or less but did not sell. "Canceled" signifies the seller decided not to proceed with the sale for various reasons.
Quarter 2:
Listed: 160 homes
Expired: 18 homes
Canceled: 14 homes
Quarter 3:
Listed: 91 homes
Expired: 10 homes
Canceled: 14 homes
Quarter 4:
Listed: 54 homes
Expired: 2 homes
Canceled: 9 homes
---
Summary:
The quarter with the highest percentage of listings that closed successfully was Quarter 4. Out of 54 listings, only 2 expired, and 9 were canceled, leaving 81.5% of listings in a favorable position towards closing. This percentage is higher than any other quarter in 2022.
---
Analysis of Competition and Demand:
Least Competition: Quarter 4 had the least competition, with only 54 homes listed.
Most Competition: Quarter 2 exhibited the most competition, with a whopping 160 homes listed.
---
Selling in Quarter 4 could be more beneficial than commonly believed. With the least competition, your property will likely attract more attention. Meanwhile, Quarter 2 may have the highest number of listings, but it also sees a high rate of expired and canceled contracts. Understanding these dynamics will help you decide the optimal time for listing your property in La Crescenta.
By examining both sides of the data, you can decide when to engage in the La Crescenta real estate market as a buyer or seller. And remember, even as the holiday season draws near, it may not be the off-season you thought it was.
This may be the perfect time for you to sell your home. Let's have a discussion to evaluate your options. Robbyn Battles, 818-388-1631 or robbyn@thehouseagent.com.