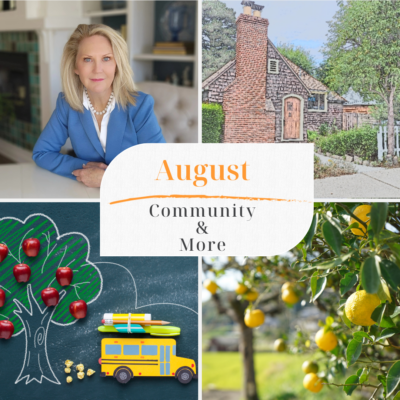 Dear Reader,
As summer draws to a close, I'm thrilled to share a mix of topics in this month's letter. I cover essential ground, from cameras to catch speeding cars to new school-related legislation. Don't fret; I've added some delightful garden tips for fun. And the highlight? Two exclusive off-market properties just for you, my cherished readers. Don't miss the community fundraiser for La Crescentas' beloved Crescenta Commons pocket park. Info at the bottom. Let's dive in and make the most of this exciting time!
Speeding Cameras: California's Possible Future. AB 645 proposes a five-year trial with cameras in San Francisco, Oakland, San Jose, Los Angeles, Long Beach, and Glendale. According to Assemblywoman Laura Friedman, a co-author, cameras will be positioned in racing zones, school areas, and accident-prone spots, focusing on changing behavior.
Five tips for your garden this month to get your garden thriving. Plant tropical trees like citrus and avocado in warm late summer soil. Add colorful blueberry bushes, like Peach Sorbet, to your collection. Start coriander seeds for flavorful cilantro growth. Ripen green tomatoes by wrapping them in newspaper and storing them in a box. Optimal watering times: Choose early morning or late afternoon.
The correlation between school rankings and property values highlights the crucial involvement of homeowners in educational discussions, regardless of having school-aged children. Proposition 39, enacted in 2000, reduced the required majority for passing new bond/tax measures from a 60% supermajority to 55% approval by voters. Currently under consideration, AB 1078 proposes raising the vote to a supermajority for state-mandated curriculum changes at the local school board level. Additionally, AB 1314 introduces the possibility of removing school board members, hindering the adoption of "inclusive" materials or policies. The combined effect of AB 1314 and AB 1078 could grant more authority to the California Department of Education in shaping local school policies, potentially diminishing the role of local school boards and communities. Delving into these essential matters is vital for making well-informed decisions that may influence your property's value and your community's education. Agree or disagree, being informed is the most important takeaway. Here is an entire article about the above-proposed legislation.
Exciting news! I have two exceptional off-market properties to share with you. If you're drawn to the vintage charm and enjoy restoring classic beauties, this Montrose gem is two blocks from Trader Joe's, priced at $875,000. Are you looking for a fixer-upper? La Crescenta Rancher with a pool, three-bed, two-bath, priced at $1,050,000.
Oh, my sweet Crescenta Commons. Be a part of something special! Help us with several overdue restoration projects needed at our cherished Crescenta Commons at the corner of Rosemont and Orange in La Crescenta. 🌳 This community hub holds a special place in our hearts and needs your support.
🏡 Crescenta Commons is more than a space—it symbolizes unity and care. Built by the community, for the community, and nurtured by the community.
🤝 Your contribution makes a difference!  Visit the Crescenta Commons page on Facebook to learn more and make a donation. Every little bit counts. Let's make our commons bloom with life and laughter once more!
Until next month if you have any questions or need my assistance I'm a call, text or email away.
Best regards,
Robbyn Battles