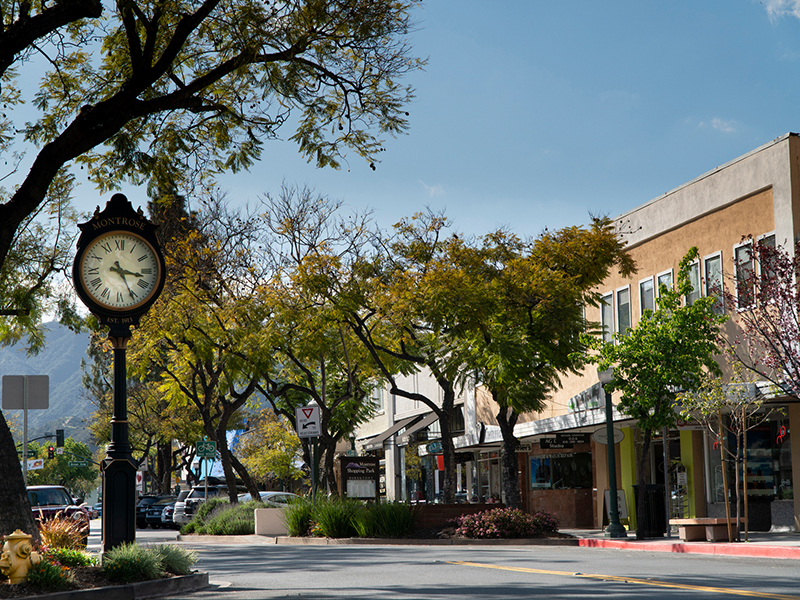 Nestled between the bustling city of Los Angeles and the beautiful San Gabriel Mountains, La Crescenta, CA, is a peaceful and charming suburb that offers residents the perfect mix of idyllic suburban life and easy access to the metropolitan city. La Crescenta calls itself "The Balcony of Southern California," and rightfully so, as its ideal location gives residents gorgeous views of mountains and valleys.
If you love the outdoors but need to be close to the city, this best-of-both-worlds neighborhood is perfect for you.  Close to the Angeles National Forest and Deukmejian Wilderness Area, La Crescenta offers a hint of rural, a dash of suburban, and a touch of big city all wrapped up in a tight-knit, family-friendly community. La Crescenta is the perfect bedroom community because of the effortless way it blends residential life with quick access to bustling Los Angeles. 
We explore below what it's like to live in this sought-after LA suburb and have a closer look at what to expect from La Crescenta, CA, homes for sale.
WELCOME TO LA CRESCENTA, CALIFORNIA
La Crescenta is located in an unincorporated portion of Los Angeles County that is often co-mingled with its neighboring community of Montrose. It has a population of approximately 20,000 (as of 2020 Census estimates) spread across an area of 3.5 square miles. Part of the community – La Crescenta Highlands –  was annexed by the city of Glendale, but the vast majority of the area was annexed by Los Angeles in 1952.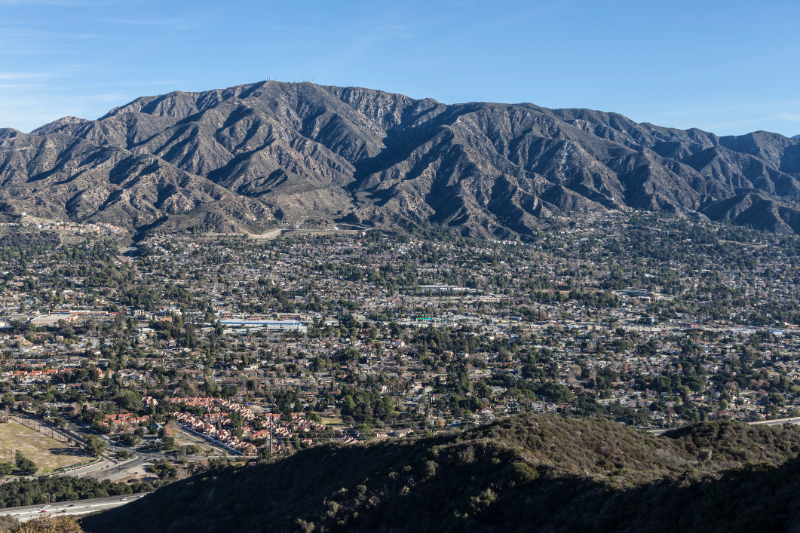 History and geography
La Crescenta is bordered on the north by the San Gabriel Mountains and the Angeles National Forest, on the south by the Verdugo Mountains and central Glendale, and on the east by La Cañada Flintridge. 
Originally part of the homelands of the Tongva people, the indigenous people of California, it later became Rancho La Cañada in a Mexican land grant awarded to schoolteacher Ignacio Coronel in 1843. By the end of the Civil War, American veterans began to settle in the valley, spearheaded by Southern soldier Colonel Theodore Pickens. 
In 1881, doctor and ex-fruit magnate Benjamin Briggs visited the valley and loved the warm, dry air so much that he planned to build a sanitarium in the area where those with lung diseases could heal and recover. That  vision never came to fruition but Briggs went on to found the townsite of La Crescenta, reportedly naming it after the three crescent shaped mountain peaks that he saw while looking out of a window one day. 
Later on, other physicians and health workers picked up where Briggs left off and built clinics and sanatoriums in the area. Towns sprang up around these popular healing locations, and the area became known to many as an idyllic destination for well-to-do families that yearned for country living but still wanted to be close to Los Angeles.
In 1934, a huge flash flood devastated the area, and in response the Army Corps of Engineers constructed flood control structures to prevent the same disaster from happening. 
In the early 1970s, the construction of the 210 Freeway firmly established La Crescenta as a part of Greater Los Angeles, paving the way for the town's urbanization. 
La Crescenta Today
La Crescenta today has maintained its early vibe of an excellent residential community for people who want the best of both worlds. It's a great laidback alternative to urban living and provides a peaceful residence near Los Angeles, Glendale, Burbank, and Pasadena, all of which can be reached in just 30 minutes by car.
Present day La Crescenta boasts safe neighborhoods, good schools, and plenty of small-town recreational opportunities. Kids ride their bikes to school, friends meet up at the park, and everyone visits the Farmer's Market on weekends.
The cost of living in La Crescenta is roughly 24 percent higher than the national average, as is expected of most communities in California. Prices are comparable with most other California neighborhoods. The median household income (as of 2021 Census estimates) is $107,954, which is higher than both the US and California medians. 
LA CRESCENTA REAL ESTATE
The real estate market in La Crescenta is very competitive, and has been regarded as a seller's market for a long time, with the number of interested homebuyers surpassing the number of residential properties available on the market.
In the 91214 ZIP code, several types of homes are available, but single-family homes make up the vast majority of property types. The typical La Crescenta, CA single-family homes for sale have 3 to 4 bedrooms with square footage of around 1,700. Lot sizes range from around 4,999 square feet to over five acres, with most properties having a lot size of around 0.20 to 0.3 acres. 
Home prices, ages, and architectural styles
Home prices range anywhere from around $650,000 to over $2 million, but the most luxurious La Crescenta homes for sale may be  priced at around $7 million or more. 
Most La Crescenta, LA single-family homes for sale are at least 50 years old – and that means you can expect mature landscaping with tall shady trees, lush greenery, and paved walkways or driveways. 
Homes in the community also come with charming traditional architecture and distinctive features. Over the years, the original tract homes here have been updated and renovated, and today, no two homes in the area are alike. Ranch, craftsman, split-level bungalows, and mid-century are the most popular architectural styles, but you'll also find homes in the pish, Mediterranean, and contemporary styles. 
A few condos and townhomes are also part of the housing mix, offering relatively more affordable housing options. You will also find several vacant lots, perfect for building your home from the ground up. 
Neighborhoods in La Crescenta
There are several neighborhoods in La Crescenta to choose from, depending on your preference and style. 
If you're looking for a walkable community where shops and restaurants are just a stone's throw away, consider these neighborhoods close to Montrose Shopping Village, which is considered the central hub for several La Crescenta neighborhoods. 
Montrose – The other (smaller) half of the La Crescenta-Montrose unincorporated area, Montrose is a lovely neighborhood with a nostalgic small town charm, filled with gorgeous homes and tree-lined streets. At the heart of the village is Montrose Shopping Park, the community hub where you'll find charming mom and pop stores, cozy restaurants and coffee shops, and the weekly Harvest Market where you can get fresh produce, homemade goodies, crafts, and more.
Sparr Heights – This walkable village is found just southeast of Montrose Shopping Park, and features manicured streets and a unique collection of home styles and architecture.
Sycamore Woods – This smaller neighborhood located just across Sparr Heights on the other side of La Crescenta Avenue lives up to its name with its oak lined, tranquil streets that gives it an almost rural feel.
If your preference is living closer to nature, take a look at these La Crescenta communities closer to the mountains and have a feel of separate protected enclaves. 
Briggs Terrace – Surrounded by the Deukmejian Wilderness Park, this neighborhood offers the best of two worlds – mountain community living just 15-20 minutes away from Downtown Los Angeles.
Whiting Woods – This charming gem of a neighborhood is full of majestic oaks and distinctive homes in varying architectural designs, including gorgeous mid-century modern homes. A creek runs through the area and there are scenic hiking trails nearby<./li>
Glenwood Oaks – This is a small protected enclave with just over 80 homes, mostly in the mid-20th century styles. Residents get direct access to the Crescenta Valley Regional Park, a spacious community regional park with amphitheaters, camping sites, picnic areas, equestrian centers, and more.
If you love carefully planned neighborhoods with consistency and style, these are the La Crescenta neighborhoods for you:
Pinecrest – This gorgeous neighborhood has many mid-century homes, including split-type and atrium style houses.
Oakmont Country Club – This community has beautiful sprawling ranch-type homes next to the country club.
Two Strike Park – This neighborhood has consistent ranch-style homes and beautiful landscaping.
Markridge – This planned community has homes with consistent pish-influenced look and feel
If you prefer the quintessential independent California spirit, you might like these neighborhoods with a wide range of lot sizes, home styles, and more. There aren't many sidewalks or street lights in these neighborhoods, making them feel like a quiet stroll in the country, despite being just minutes away from urban amenities and centers.
Crescents Highlands – This gorgeous location has stunning views of the surrounding mountains, wide roads, and charming homes.
Pickens Canyon – Boasting a convenient location, this neighborhood features wide lots and eclectic architectural styles.
Highway Highlands – Featuring some of the most affordable homes in the Glendale area, Highway Highlands is a sought-after community by families and singles alike
LIVING IN LA CRESCENTA
The allure of La Crescenta, CA, homes for sale is further enhanced by the high quality life and amazing benefits that the community offers. Here's a closer look at the different aspects of living in this community.
Education
La Crescenta is very appealing for families with kids with the easy access to high-quality education that it provides. The area belongs to the Glendale Unified School District, and many of the schools in La Crescenta outshine other schools in the district. This is no mean feat considering that, in general, Glendale schools are well-ranked for their excellent education programs, extracurricular activities, and student achievements.
The top schools in the area include Monte Vista Elementary, Valley View Elementary, Rosemont Middle School, and Crescenta Valley High.
Dining and shopping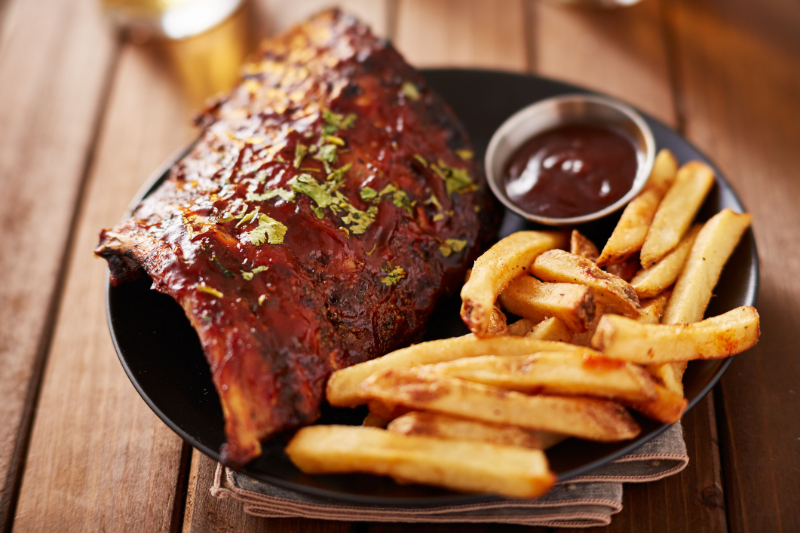 La Crescenta offers delightful dining choices for residents with just a little bit of everything to suit every palate. You won't need to worry about not finding your favorite cuisine here amidst the local favorites, and you can enjoy everything from hearty American comfort food to delicious Mexican fare, vibrant Asian flavors, and even Mediterranean delights.
Here are some local restaurant favorites in and around La Crescenta: 
After dinner, you can head to
Therapy at the Roar Room
for some live music. While La Crescenta may not have as vibrant a nightlife scene as the surrounding cities, it's near enough for residents to pop over to Los Angeles when they want to hit the clubs.
Alongside dining options, there are many shopping options for residents and visitors. The Montrose Shopping Park is designed as a fun outdoor shopping enclave with wide streets for walking and spending time with friends. 
The shopping district has several brand-name stores alongside locally-owned boutiques. You can find everything you need, from fashion, accessories, and beauty to pets and home goods.
Attractions at La Crescenta
On Sundays, residents buy fresh produce, baked goods, and artisanal products at the Harvest Market and Montrose Marketplace.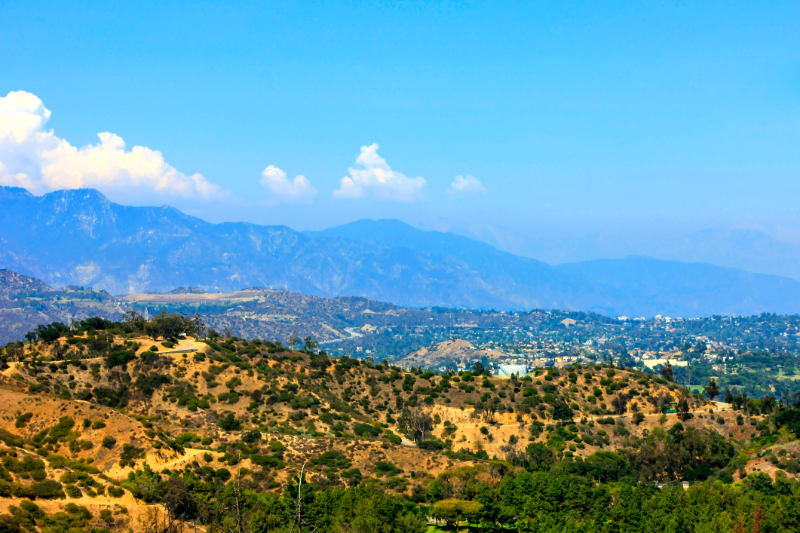 One of the top reasons to move to La Crescenta is its proximity to nature. With the San Gabriel Mountains as a picturesque backdrop, the town is ideal for lovers of the outdoors. You can enjoy hiking, outdoor picnics, and gorgeous parks right in your backyard.
Some of the most popular parks in the area include:
Alongside parks and outdoor spaces at La Crescenta, you can also enjoy landmarks and see the beautiful historical architecture in the area. 
La Crescenta Motel – This landmark is no longer operational, but movie buffs will love seeing this famous 1940s motel that has been used as a set for movies and television shows like Win a Date with Tad Hamilton, The X-Files, and Mad Men. Its retro sign is still standing and is a fun photo-worthy stop
Le Mesnager Barn – Built in 1905 by French winemakers, this lovely two-story stone barn is still being used for its original purpose of winemaking. The Stone Barn Vineyard Conservancy now runs it, managing 81 grapevines in the sprawling property. The barn offers wine-tasting events year-round and has a neighboring amphitheater that hosts several community events.
St. Luke's of the Mountains Episcopal Church – If you love architecture, you will love this beautiful village church built with stones collected by the community. The church was built in 1949 by artist Seymour Thomas to replace the smaller structure built in 1923.
While these are great local attractions, being in La Crescenta also means you are a quick drive away from some of California's biggest attractions, like Disneyland, Universal Studios, the Hollywood Walk of Fame, and the Griffith Observatory.
LEARN MORE ABOUT LA CRESCENTA, CALIFORNIA HOMES FOR SALE WITH ROBBYN BATTLES
Buyers and investors interested in La Crescenta, CA, homes for sale will find a wide array of choices. If you are considering making La Crescenta your home, let Robbyn Battles guide you to the perfect property. 
A Certified Senior Specialist and a Certified Luxury Homes Marketing Specialist with decades of experience in real estate, Robbyn provides personalized service that goes above and beyond. With her dedication and commitment to her clients, Robbyn has achieved the trust of numerous clients, and is ranked by Real Trends among the Top 1% of Agents in the United States for 2022.
Let Robbyn help you find your dream home in La Crescenta. Get in touch at 818.388.1631 or send an email or fill out the contact form here to get started.