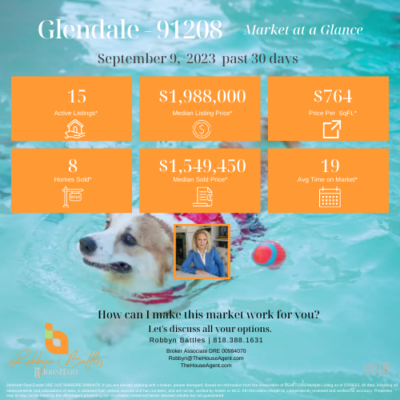 Glendale 91208 Market at a Glance
In this detailed market analysis, we'll delve into the real estate dynamics of Glendale 91208 over two pivotal 30-day periods, providing you with a comprehensive overview of the area's property landscape. These statistics serve as a valuable snapshot, offering keen insights into the market's trends and fluctuations.
Current Stats as of September 9:
Homes for Sale: 15

Median List Price: $1,988,000
Avg. Price per Square Foot: $762
Analysis: The market sees a healthy inventory with a median price point reflecting the area's desirability.

Homes Sold (Past 30 Days): 8

Median Sale Price: $1,549,450
Avg. Market Time: 19 days
Analysis: A competitive market with a swift average sale time, indicating strong buyer interest.
Stats for August 9:
Homes for Sale: 12

Median List Price: $1,999,950
Avg. Price per Square Foot: $762
Analysis: Inventory remains steady, with a consistent median list price.

Closed Sales (Previous 30 Days): 7

Median Sale Price: $1,400,000
Avg. Market Time: 9 days
Analysis: August demonstrated a brisk market with relatively quick sales.
Over the span of these two periods, we observe a modest uptick in homes for sale, though the median list price has slightly decreased. Notably, the market time for closed sales has increased, indicating a potentially more considered approach by buyers.
Nestled in the heart of Glendale, 91208 offers a harmonious blend of urban convenience and suburban tranquility. Tree-lined streets and a community-centric atmosphere make it a sought-after locale. Montrose Park, CHarming downtown Montrose, along with specialty neighborhoods like Sparr Heights, Montecito Park, and The Woodlands, offer buyers a selection of charm and character.