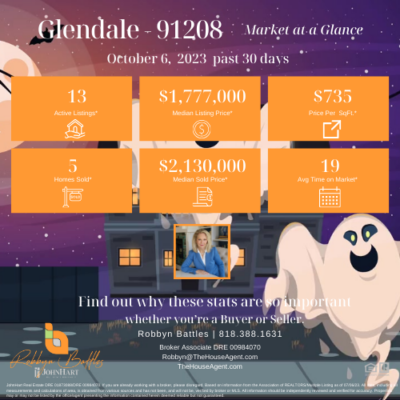 Welcome to the spooky month of October and my latest edition of "Glendale 91208 Market at a Glance." This comprehensive guide will delve into the most recent real estate statistics to offer you valuable insights. Whether you're a homeowner thinking of selling or a buyer considering an investment, these numbers are crucial for making informed decisions.
October 6, last 30 days Stats and Analysis:
Homes on the Market: 13 (A decrease in available homes can indicate a seller's market.)
Median List Price: $1,777,000 (A lower median list price could be an entry point for buyers.)
Average Price per Square Foot: $735 (A useful metric for comparing property values.)
Median Sales Price: $2,130,000 (Higher sales prices suggest strong demand.)
Average Market Time: 16 days (Quick sales indicate a market favorable to sellers.)
September 6,  – August 6, 2023 Stats and Analysis:
Homes on the Market: 15 (More inventory could mean more options for buyers.)
Median List Price: $1,988,000 (A higher list price indicates a strong seller's market.)
Average Price per Square Foot: $764 (Useful for comparing different types of homes.)
Homes Sold: 8 (The number of sales can indicate market activity.)
Median Sales Price: $1,549,450 (Lower sales prices may suggest room for negotiation.)
Average Market Time: 19 days (A slightly slower market could offer more negotiating power to buyers.)
Summary Comparison: The market from September to October has seen a slight decrease in inventory and a drop in median list prices. However, homes are selling faster, and the median sales price has increased, indicating a dynamic and competitive market.
Why These Stats Matter:
Market Time: A shorter market time is generally favorable for sellers as it indicates high demand, while a longer market time may offer buyers more negotiating power.
Median Prices: These give both buyers and sellers a realistic expectation of what they can expect in terms of pricing, helping to set budgets or listing prices.
Average Price per Square Foot: This stat provides a more granular look at home values, allowing for better comparisons between different sizes and types of properties.
The Point of Sharing These Numbers: The aim is to offer you value and context. Understanding these numbers can help you make informed decisions, whether you're buying or selling.
Get In Touch: Are you curious about what these numbers mean for you? Whether you're looking to buy or sell, I'm here to provide personalized market information. Call, text, or email me today to get your insights.
I hope this format better suits your needs. Feel free to reach out for more personalized advice!
Best, Robbyn Battles
818-388-1631