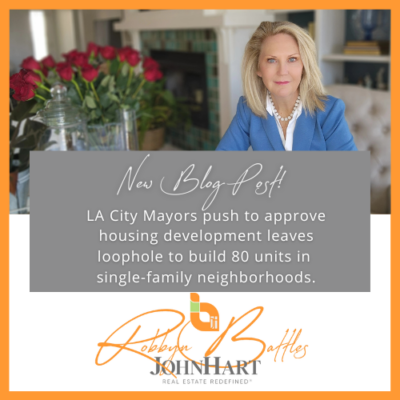 When Los Angeles Mayor Karen Bass signed an executive order seven months ago to relax affordable housing rules for developers, she hoped it would encourage larger projects. It did, but some homeowners don't like it.
The mayor's order to fast-track housing may allow for eight apartment complexes up to 80 feet tall to be built next to homes in five single-family neighborhoods across the San Fernando Valley, the Los Angeles Daily News reported.
Her executive order known as Executive Directive 1, signed in December and revised six months later to bar apartments on single-family streets, created a loophole for projects proposed in Sherman Oaks, Canoga Park, Reseda, Pacoima and Sun Valley.
The directive was meant to speed approval of 100-percent affordable housing and homeless shelters without public hearings, environmental studies and nods from either the city's Planning Commission or City Council. A revision, which came in June, said such projects couldn't be built on single-family streets, long protected from developers of large apartment buildings.
But in the interim, developers filed for eight ED1 apartment projects across the Valley.
They include a 200-unit, 80-foot-tall complex by Chatsworth-based Uncommon Developers at  5501-5511 North Ethel Avenue in Sherman Oaks.
Also, they include a 78-unit complex at 10898-10900 West Olinda Street in Sun Valley, a 360-unit complex at 8217 North Winnetka Avenue and an 85-unit complex at 8550 North Variel Avenue in Canoga Park; a 114-unit complex at 19448 West Saticoy Street, a 190-unit complex at 7745 North Wilbur Avenue and an 85-unit complex at 18430 West Vanowen Street in Reseda; and a  202-unit complex at 11070 North Borden Avenue in Pacoima.
Critics accuse the mayor, who issued the directive until it was later clarified, of being asleep at the switch. Maria Pavlou Kalban, co-vice president of the Sherman Oaks Homeowners Association, called the loophole "terrible."
"The mayor's office made a mistake and what they need to figure out now is how to mitigate that impact," she said.
In March, Uncommon Developers proposed the seven-story, 200-unit affordable housing project on Ethel Avenue, a single-family neighborhood, before the mayor revised her executive directive, according to the Daily News.
In July, after Bass revised her directive, the Planning Department told the developer its application no longer qualified for the ED1 track. The developer appealed, saying whatever rules existed when it filed the application should apply.
Last month, the City Council's Planning & Land Use Management Committee sided with Uncommon Developers, and sent its case to the City Council, which voted 8-5 to uphold the decision.
Councilman Bob Blumenfield, whose district contains five of the projects, introduced a motion to deny the developer's appeal, which failed.
Blumenfield said the mayor's order would impact "all of those neighbors, all of those folks who can't necessarily speak for themselves, who live next door, who, their property value is going to get cut in half, they're going to have a big shadow over their place … when that was not the intent of ED1."
City officials are now wrestling with whether the applications to build affordable apartment complexes in single-family residential zones, submitted before the mayor updated her directive, should be allowed to use the ED1 approval process.
The mayor's office said Executive Directive 1 was intended to cut red tape, not allow a loophole.
"The mayor updated her executive directive to make it clear that projects that don't meet these requirements are not eligible for administrative expediting and instead must use the standard application process which typically includes a public hearing in front of the City Planning Commission," it said in a statement.
The state Department of Housing & Community Development believes the developers now have vesting rights to complete their projects. The city's Planning Department disagrees.
A representative of the City Attorney's Office told the council that it considered the state's opinion "persuasive at most, not binding" should the issue come up in court. Some residents around Ethel Street in Sherman Oaks say they're weighing whether to file a lawsuit.
The source of the article is from The Real Deal
— Dana Bartholomew
Link to original article: https://therealdeal.com/la/2023/10/02/can-la-reverse-order-allowing-tall-buildings-next-to-homes/