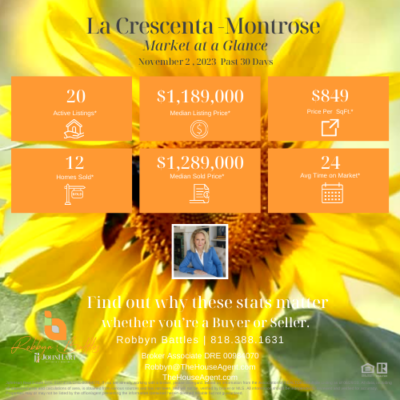 Dear readers, today we delve into the ever-evolving real estate market in La Crescenta, California, providing you with a comprehensive analysis of the last 30 days of activity, comparing November 2, 2023, to the preceding month of October 2, 2023. La Crescenta Market at a Glance – November 2023 vs. October 2023. I'm Robbyn Battles, your trusted real estate professional in the Foothills area, and I'm here to break down the data, offering insights and context to help you understand the current real estate landscape in our community.
Let's start with the stats for November 2, 2023:
Homes on the market: 20
Median list price: $1,189,000
Average price per square foot: $849
Homes sold in the past 30 days: 12
Median sales price: $1,289,000
Average market time: 24 days
Now, let's compare this to the data for the 30 days ending October 2, 2023:
Homes on the market: 15
Median list price: $1,399,000
Average price per square foot: $848
Homes sold in the past 30 days: 20
Median sales price: $1,310,000
Average market time: 13 days
Let's break down each stat and provide a brief analysis:
Homes on the Market: We've seen an increase in the number of homes available for sale, indicating more options for buyers.
Median List Price: The median list price has decreased slightly from $1,399,000 to $1,189,000. This might attract buyers looking for more affordable options.
Average Price Per Square Foot: This statistic has remained relatively stable, with a small increase from $848 to $849 per square foot.
Homes Sold: The number of homes sold decreased from 20 to 12, possibly due to a slightly longer average market time.
Median Sales Price: Despite the decreased number of homes sold, the median sales price remained strong at $1,289,000.
Average Market Time: Market time increased from 13 to 24 days, indicating a slight shift towards a more balanced market.
Now, let's summarize the two 30-day periods:
In November, we've observed a higher inventory of homes and a decrease in the median list price, offering more choices for potential buyers. While the number of closed sales and the average market time increased, the median sales price remained robust. This suggests that La Crescenta's real estate market continues to be competitive, with a balanced mix of offerings for both buyers and sellers.
But why are market time and median prices important for homeowners and homebuyers? Market time helps sellers gauge how quickly their home might sell, while buyers can use it to assess the pace of the market. Median prices provide a reliable indicator of the overall market health and the value of properties in the area.
Now, you might wonder about the significance of the average list price per square foot. This metric is essential because it offers a standardized way to compare properties of different sizes and configurations. It allows buyers and sellers to make informed decisions about the value of a home in relation to its size and features.
If you're looking for more detailed market information or considering buying or selling a home in La Crescenta, don't hesitate to contact me, Robbyn Battles, at 818-388-1631 or via email at Robbyn@TheHouseAgent.com. I'm here to provide you with personalized insights and guide you through the dynamic real estate market in our beautiful community.
Want to know more about the community and events planned for the 2023 Holiday season?
La Crescenta and Montrose, nestled in the foothills of the San Gabriel Mountains in California, are known for their small-town charm and proximity to urban Los Angeles. The area boasts excellent schools, a low crime rate, and a strong sense of community, which appeals to many homebuyers.
During the 2023 holiday season, the community comes alive with events:
Montrose Holiday Wine Walk: An annual event where participants can enjoy a variety of wines while exploring local businesses. This year, it's on November 11, from 5:00 PM to 8:00 PM [5].
Free Photos with Santa & Snow: A festive event perfect for families looking to capture holiday memories [4].
Annual Montrose-Glendale Christmas Parade: A staple in the community's holiday tradition, attracting many locals and visitors [5].
These events reflect the community-oriented atmosphere that is one of the reasons people love to buy and live here. The blend of suburban peace, beautiful landscapes, outdoor activities, and tight-knit community events create a desirable living environment, especially for those looking for a respite from the city while still valuing convenience and accessibility.
🌐 Sources