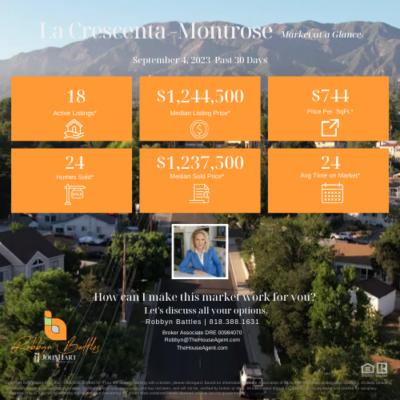 La Crescenta-Montrose Market at a Glance: September vs. August housing activity
Greetings, fellow real estate enthusiasts! Today, we're diving into the dynamic La Crescenta-Montrose real estate market for September 4 and comparing it to the stats from August 4. As your friendly guide, Robbyn, I'll break down the numbers and provide insights to help you understand the shifting landscape.
September 4 Stats:
Homes for sale: 18 – Slightly reduced inventory compared to August.
Median list price: $1,244,500 – Steady pricing with potential for buyer advantage.
Avg. price per sq. ft.: $744 – Competitive pricing for homebuyers.
Homes sold (30 days): 24 – Steady sales activity despite a slight dip.
Median sale price: $1,237,500 – Healthy median sale price indicating market stability.
Avg. market time: 24 days – Reasonable time on market for sellers.
Analysis: The current market showcases 18 homes for sale with a slightly lower median list price compared to August, signaling a potential adjustment in pricing. Despite this, the market remains competitive, with 24 homes sold in the past month, indicating strong buyer interest.
August 4 Stats:
Homes for sale: 26 – Higher inventory and strong seller's market.
Median list price: $1,274,500 – Typical peak-season pricing.
Avg. price per sq. ft.: $817 – Higher price per square foot in peak season.
Homes sold (30 days): 21 – Robust sales in August's competitive market.
Median sale price: $1,450,000 – Strong median sale price for sellers.
Avg. market time: 14 days – Quick sales indicate high demand.
Analysis: In August, the market boasted a higher median list price and price per square foot, reflecting the typical peak season for real estate activity. The shorter average market time also suggests increased demand.
Comparing the Two Months: September witnessed a slight drop in inventory and median list price, which could be attributed to seasonal factors or market adjustments. However, the number of homes sold remained consistent, showcasing a resilient market.
La Crescenta-Montrose Neighborhood Highlights: Nestled in the picturesque Foothills, La Crescenta-Montrose offers a unique blend of suburban tranquility and convenient city access. Residents enjoy top-rated schools, a tight-knit community, and easy access to parks, including the delightful Crescenta Commons. This neighborhood exemplifies the best of both worlds with an abundance of local shops, including the newly renovated and re-opened Montrose Bowl and eateries.
So, there you have it—a snapshot of the La Crescenta-Montrose real estate market in September compared to the bustling days of August. Keep these insights in mind as you navigate the vibrant world of real estate in our charming corner of California. Happy house hunting!