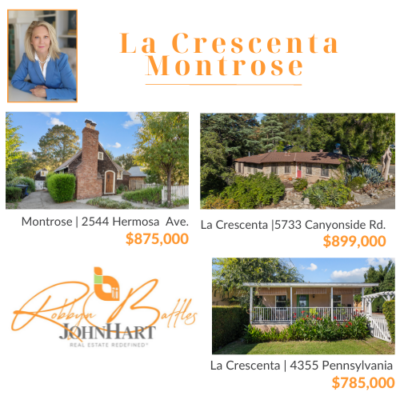 Hey, real estate enthusiasts and future homeowners! Robbyn Battles has a new line-up of intriguing properties that could be the keys to your next dream home or investment. 😊🏠 Let's break them down:
1: The Hobbit House 2544 Hermosa Ave. in Montrose: Nestled just a block from Montrose Shopping Park, this charming 1920 "Hobbit House" captures the allure of vintage craftsmanship. A perfect option for those who appreciate a unique character in a home and love to be within walking distance to shopping and dining. Check out all the details 2544 Hermosa Ave. in Montrose
2: The Starter Home in La Crescenta 4355 Pennsylvania Ave: Priced at $785,000, this property is the perfect entry point into the real estate market. Whether you're considering a first-time home purchase or looking to start your rental property portfolio, this is a deal you won't want to miss. Details 4355 Pennsylvania Ave
3: The Fixer-Upper with a View 5733 Canyonside Rd.: Open Sunday, October 29 from 2-4 pm. This property offers breathtaking canyon views at the top of Upper Briggs Terrace. Although it needs a bit of tender loving care (TLC), the potential for transformation is limitless. Ideal for those willing to invest time and creativity to make it their own.
Details and links to be posted shortly. All the details.
Each location offers a unique experience: Montrose Shopping Park for the social butterfly, La Crescenta for newcomers or budding landlords, and Upper Briggs Terrace for those enchanted by nature and up for a project. Your next chapter starts here, and Robbyn Battles can guide you every step of the way! 🌟
Nestled in the heart of Montrose, California, Montrose Shopping Park is a charming, one-of-a-kind destination that exudes small-town appeal. Formed in 1968, this village-like setting has a bit of everything for everyone — from local boutiques to convenient banking and delightful eateries[1]. Known for its blend of contemporary and traditional, you'll find shops carrying labels like Nine West alongside mom-and-pop stores that evoke the small-town American charm[3][6]. It's not just a place for shopping but a gathering hub that truly feels like a community. Whether you're hunting for the perfect pair of shoes or seeking a pleasant dining experience, Montrose Shopping Park is more than just a retail space; it's a slice of Montrose's rich history and community spirit[4][5].
Nestled between the San Fernando and San Gabriel Valleys, La Crescenta is an unincorporated gem in Los Angeles County that boasts a rich history and a close-knit community feel. If you're a history buff, you'll be intrigued to know that the area was settled in 1871 by Colonel Pickens, making his home in what's now known as Briggs Terrace at the top of Briggs Avenue[2]. Speaking of Briggs Terrace, this neighborhood is one of La Crescenta's hidden treasures. Known for its tranquil ambiance and scenic views, it's the kind of place where neighbors actually know each other's names! So whether you're drawn by its history, the sense of community, or just the simple pleasure of a peaceful setting, La Crescenta and its charming Briggs Terrace neighborhood offer something special for everyone.
Steeped in history and surrounded by top-rated schools in the Glendale Unified School District, offers an array of outdoor and lifestyle amenities. One notable neighborhood is Briggs Terrace, beloved for its peaceful ambiance and easy access to various recreational options like Dukemejian Park, which is named after Governor George Deukmejian and features hiking trails and picnic areas. For dog lovers, Crescenta Valley Dog Park is a friendly and spacious haven for pets. Whether you prioritize education, recreation, or a blend of both, La Crescenta and its surrounding neighborhoods are versatile enough to meet your needs.
🌐 Sources