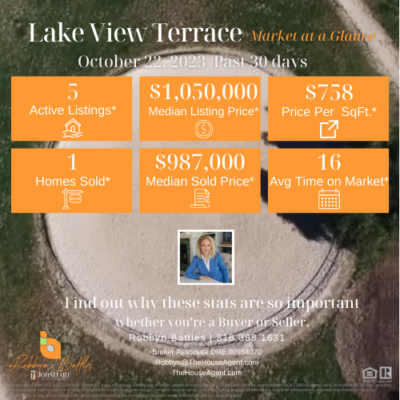 The Importance of Understanding Market Statistics with Robbyn's Lake View Terrace Market at a Glance
Staying up-to-date with real estate market statistics is crucial for buyers, sellers, and homeowners in Lake View Terrace. This data not only gives you a snapshot of current market trends but it can also help you make well-informed decisions. Sellers can gauge the best time to list their homes, buyers can identify potential bargains, and homeowners can track the value of their investment over time.
Statistics for October 22, 2023, over the past 30 days:
Homes for Sale: 5
Median List Price: $1,050,000
Average Price per Square Foot: $758
Closed Sales: 1
Median Sale Price of Closed Sales: $987,000
Average Market Time for Closed Sales: 16 days
Analysis for October: The number of homes available is notably lower, suggesting a tighter market. With a median list price of $1,050,000 and an average price per square foot of $758, properties are becoming more expensive. Interestingly, the average market time has remained constant at 16 days, indicating that homes are moving relatively quickly despite the higher prices.
Statistics for September 22, 2023, over the previous 30 days:
Homes for Sale: 12
Median List Price: $824,998
Average Price per Square Foot: $681
Closed Sales: 6
Median Sale Price of Closed Sales: $902,500
Average Market Time for Closed Sales: 16 days
Analysis for September: There was more inventory in September, with 12 homes available. The median list price and average price per square foot were lower than in October, making it a relatively better time for buyers. A total of 6 homes were sold, indicating a more active market in terms of sales compared to October.
Comparative Summary for Both Months:
We see a tightening market with higher prices in October between the two months. This could be indicative of increased demand or reduced supply. Despite these changes, the average market time stayed the same, pointing to buyers' consistent level of interest.
The Charm of Lake View Terrace
Nestled between the San Gabriel and Verdugo Mountains, Lake View Terrace offers a wonderful blend of suburban and rural living. Whether you're into horseback riding, hiking, or enjoying nature reserves, this community has something for everyone.
A Brief Housing History
Originally an agricultural area, Lake View Terrace has seen significant growth over the decades. The area has maintained its rural charm, with many properties offering spacious lots suitable for equestrian activities. Whether you're looking for a modern estate or a traditional ranch-style home, Lake View Terrace provides a wide range of housing options that fit its unique landscape and lifestyle.
There you have a comprehensive view of the Lake View Terrace real estate market and what makes this community so special. With these insights, you're better equipped to navigate this dynamic market, whether you're buying, selling, or simply keeping an eye on your investment.
Meet Robbyn Battles, a seasoned real estate professional with over 30 years of experience in the industry. Based at JohnHart Real Estate, Robbyn has an impressive track record of serving various communities across the Foothills, such as Shadow Hills, Lake View Terrace, and more. Her extensive knowledge of market trends has garnered glowing reviews from satisfied clients, which can be found on Zillow, Google Business, and Facebook. Beyond her real estate acumen, Robbyn is deeply rooted in her community; she volunteers her time at the Crescenta Commons, a beloved community garden near Monte Vista Elementary. Passionate about providing informative market analyses, she regularly posts a 'Market at a Glance' report for local areas. To contact Robbyn for your real estate needs, visit her website thehouseagent.com, or call her directly at 818-388-1631.