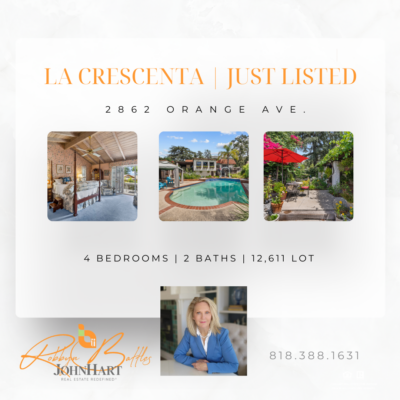 Welcome to the charming property nestled in the heart of La Crescenta! This 4-bedroom, 2-bath home features an extra-large formal dining room and formal living room, offering plenty of space for both relaxation and entertainment.
One of the main highlights of this home is the magnificent main suite, providing a tranquil escape from the outside world. Its high vaulted wood beam ceiling adds a touch of rustic elegance, while the French doors lead to a private deck overlooking the pool.
Enjoy lazy mornings or serene evenings in this peaceful retreat. Situated on an impressive 12,661 sq ft lot, the yard offers a delightful escape filled with privacy and charm. An inviting overhang creates an atmosphere reminiscent of an old plantation, surrounded by lush hanging ferns and mature trees, enhancing the feeling of seclusion and tranquility. The carefully designed landscaping complements the natural beauty of the surroundings.
The spacious backyard provides ample room for gatherings and entertainment, making it a perfect spot for hosting weddings and special events. The fantastic pool beckons you to unwind on hot summer days, making it ideal for residents of all ages to enjoy a refreshing dip. This home is truly a haven for those who cherish their privacy while still having the opportunity to enjoy a vibrant social life in the comfort of their own residence.
This La Crescenta property is an enchanting and distinctive residence that will capture your heart. Its quirky character, spacious interiors, and lush yard provide a unique blend of privacy and social appeal. Whether seeking a peaceful escape or an inviting space to entertain friends and family, this home promises a vibrant living experience that caters to all ages and lifestyles. Take the chance to make this extraordinary property your own!
See more pictures details and open house dates