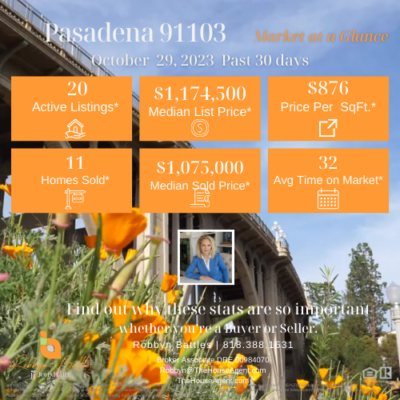 Understanding the Pasadena 91103  "Market at a Glance" statistics is crucial for both buyers and sellers. These numbers offer a snapshot of the current housing market, helping you make informed decisions. Whether you're looking to buy, sell, or just keep tabs on the market, these stats are your go-to guide. The real estate market in Pasadena, California 91103, is buzzing with opportunities for both buyers and sellers. If you're considering selling, the fall season is often cited as the best time to list your property. Buyers are motivated to settle into a new home before the holidays, and the moderate weather makes for pleasant house-hunting. On the flip side, now is also a compelling time to buy. While it's tempting to wait for mortgage rates to decline, there's no guarantee that will happen. In fact, as the area continues to grow in popularity, property values are likely to rise, making the cost of waiting potentially higher. Beyond the numbers, homeownership remains a solid investment for building long-term wealth and offers unparalleled stability and freedom compared to renting. Whether you're looking to sell or buy, acting now could be a strategic move in this dynamic market.
Let's dive into the numbers for Pasadena, California 91103, comparing the last 30 days as of October 29, 2023, to the 30 days as of September 29, 2023.
Stats for October 29, 2023
20 Active Listings: This indicates that there are 20 homes currently on the market. A higher number of listings gives buyers more options.
Median List Price $1,174,500: This is the middle price point of all the active listings. It's a useful indicator of the market's overall affordability.
Average Price Per Square Foot $876: This shows how much space you're getting for your money. A higher number usually means less space for the price.
11 Properties Sold: This tells us how many homes were actually bought in the last 30 days.
Median Sale Price $1,025,000: This is the middle price point of all the homes sold. It helps gauge what price homes are actually selling for.
Average Market Time 32 Days: This is how long, on average, properties are staying on the market before being sold. A shorter time generally indicates a seller's market.
Stats for September 29, 2023
9 Properties for Sale: Fewer homes were available, limiting choices for buyers.
Median List Price $1,099,000: The median list price was slightly lower than it is now, suggesting a slight uptick in market prices.
Average Price Per Square Foot $790: You were getting more space for your money a month ago.
20 Properties Sold: More homes were sold in this period, indicating a more active market.
Median Sale Price $1,100,000: The median sale price was higher, suggesting that buyers were willing to pay more.
Average Market Time 34 Days: Homes were on the market for a bit longer, indicating slightly less urgency among buyers.
Closing Thoughts
The housing market in Pasadena 91103 is dynamic, with both list and sale prices showing an upward trend over the last month. This area is a gem in Southern California, known for its historic architecture, vibrant arts scene, and top-rated schools. The Rose Bowl, Huntington Library, and beautiful parks are just a few highlights that draw residents to this charming community.
Understanding these statistics can help you decide whether you're buying or selling. The market is ever-changing, and staying updated with these numbers can give you an edge.
Pasadena, California 91103 is a vibrant area that offers a mix of cultural and recreational activities. One of the major attractions is the Rose Bowl, an iconic stadium that hosts various events, including college football games and concerts. The nearby Arroyo Seco Park is perfect for hiking, cycling, and picnics. For art enthusiasts, the Norton Simon Museum showcases an impressive collection of European and Asian art. Regarding residential architecture, the area is a melting pot of styles. You'll find everything from historic Craftsman bungalows to modernist homes, offering a diverse landscape that caters to various aesthetic tastes. Whether you're an outdoor enthusiast, a culture vulture, or someone who appreciates architectural diversity, Pasadena 91103 has something for everyone.
🌐 Sources