When you are talking about the housing market, it's important not to generalize and say the market is terrible, the market is dropping. Although rates have increased, some markets have not been as affected as others. When considering a purchase or a sale, buyers and sellers should focus on their market, not the "housing market," in a Nationwide comparison article. Let's refer to a sellers' market as their Micro market. We are comparing the market immediately around your home.
For the sake of conversation, I have chosen La Crescenta, California 91214, as my featured micro market. So let's look at a micro market before we look at the overall housing market. I'm also featuring the five most visited properties on my website in La Crescenta so you can look for what potential buyers and sellers are viewing and pricing and property details.
As of January 12, 2023, there are 23 homes listed for sale. We are off to a slow start as far as inventory.
Here are the 5 most popular homes visited on my website. Take a look at all the details.
1: Beautiful Briggs Terrace home
2: Private street completely remodeled
3: Pool, View, Basketball half-court in Laker colors
4: Mid-Century Fixer fantastic location
5: A great starter home above Foothill
Currently, there are only 7 pending sales in La Crescenta. The median-sized home is 1630 square feet, with a median list price of $1,198,000.
Q4-2022ended with 55 closed single-family homes with a Median list price of $1,150,000 and a Median sale price of $1,115,000. The median home size was 1601 sq. ft.
Comparing the median numbers for pending and closed are almost identical.
There's no doubt today's housing market is very different than the frenzied one from the past couple of years. In the second half of 2022, there was a dramatic shift in real estate, and it caused many people to make comparisons to the 2008 housing crisis. While there may be a few similarities, when looking at key variables now compared to the last housing cycle, there are significant differences.
In the latest Real Estate Forecast Summit, Lawrence Yun, Chief Economist at the National Association of Realtors (NAR), drew the comparisons below between today's housing market and the previous cycle: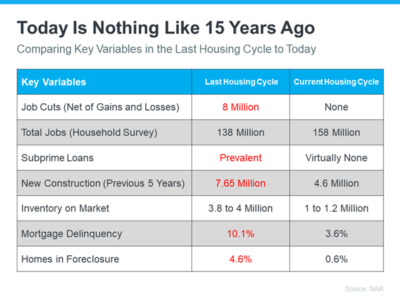 There's Opportunity in Real Estate Today
And in today's market, with inventory rising and less competition from other buyers, there's opportunity right now. According to David Stevens, former Assistant Secretary of Housing:
"So be advised…this may be the one and only window for the next few years to get into a buyer's market. And remember…as the Federal Reserve data shows…home prices only go up and always recover from recessions no matter how mild or severe. Long term homeowners should view this market…right now…as a unique buying opportunity."
When you decide it's time to make a move contact a professional, Robbyn Battles 818-388-1631