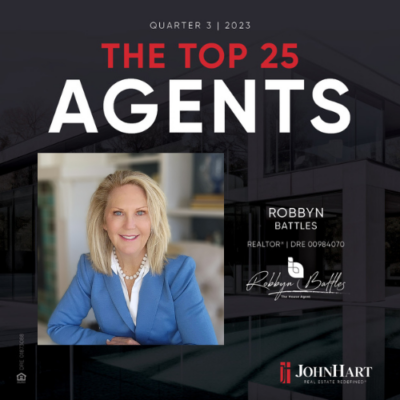 I'm thrilled to announce that I've made the Top 25 Agents list at JohnHart for the third quarter! This recognition is truly an honor in a company with over 400 agents. But let's be clear: this isn't just about me. It's about us—my incredible clients and me. Your trust and collaboration make this achievement possible, and I see this recognition as a shared victory.
This year has been a rollercoaster in the real estate market. Many agents have left the industry, from newcomers feeling overwhelmed to veterans contemplating early retirement. Amidst these challenges, some agents have risen to the occasion, and I'm proud to be among them. But the real stars are you, my clients. Your trust fuels my commitment to redefine real estate and always put your interests first.
Being a JohnHart agent means navigating a tough market with skill and integrity. The agents who made this quarter's list have done more than just persevere; we've turned the market to our client's advantage. While it may look like magic, it's actually a result of hard work, strategic planning, and a deep understanding of my clients' needs.
So, if you see me, don't just thank me—know that I'm thanking you. Your trust and collaboration have been instrumental in my 30+ years in this ever-changing real estate industry. My clients and I are not merely navigating the real estate market; we're flourishing in it, turning opportunities into successes year after year. I look forward to continuing to rise to the top of this dynamic market and industry, hand in hand with you, my valued clients.
Thank you
Robbyn Battles
818-388-1631
Get to know more about me.
Meet Robbyn Battles: The Heartbeat of La Crescenta Real Estate
Who is Robbyn Battles?
Robbyn Battles is not just another real estate broker; she's a cornerstone in the La Crescenta community. With over 30 years of experience in the real estate business, Robbyn has seen it all—from market surges to crashes, high rates to low rates. She's not just in the business; for her, "The business just gets better and better!"[1]
Local Expertise
Robbyn specializes in several communities across the Foothills, including but not limited to La Crescenta, La Canada, Sunland-Tujunga, Altadena, and Shadow Hills. Her deep-rooted knowledge in these areas makes her the go-to person for both buying and selling properties[2].
More Than Just Real Estate
But Robbyn is more than her impressive real estate portfolio. She's a community person. She volunteers her time to maintain the Crescenta Commons community garden, a gathering spot for parents and neighbors. She's also keenly interested in state and local housing bills and California's educational bills.
Why Choose Robbyn?
Experience: Over three decades in the industry.
Local Knowledge: She grew up and still lives in the La Crescenta and Montrose communities[5].
Community Involvement: Actively volunteers and is invested in local issues.
Referral-Based Business: Most of her business comes from satisfied clients who refer her services.
Whether you're looking to buy, sell, or just understand the complexities of the market, Robbyn Battles is the person to talk to.
 Sources
Serving the La Crescenta, La Canada, Glendale, Sunland-Tujunga, Pasadena, and surrounding neighborhoods successfully for 30+ years and enjoying selling homes with amazing clientele every moment.