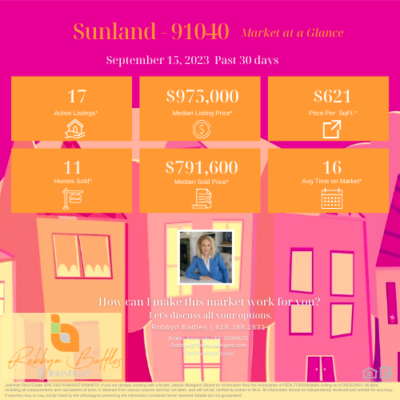 Sunland Market at a Glance
In this report, we'll be delving into the real estate market in Sunland, CA, comparing two 30-day time periods: September 15 and August 9. This data will provide valuable insights into the current trends and changes in the Sunland housing market.
September 15 Stats:
Homes for Sale: 17

Median List Price: $975,000
Avg. Price per Square Foot: $621
Analysis: The market is active with a consistent number of homes available, indicating a stable inventory. The median list price has slightly increased, suggesting demand for properties in Sunland remains strong.

Homes Sold (Past 30 Days): 11

Median Sale Price: $791,000
Avg. Market Time: 16 days
Analysis: The market shows a healthy activity level with 11 homes sold in the past 30 days. The median sale price indicates a competitive market, with properties selling relatively quickly.
August 9 Stats:
Homes for Sale: 17

Median List Price: $924,000
Avg. Price per Square Foot: $580
Analysis: Similar to September, there were 17 homes available for sale. The median list price was slightly lower, indicating a slight increase in pricing from August to September.

Homes Sold (Past 30 Days): 13

Median Sale Price: $835,000
Avg. Market Time: 35 days
Analysis: In August, 13 homes were sold with a median sale price of $835,000, and properties stayed on the market for an average of 35 days. This indicates a competitive market with a slightly longer time on market compared to September.
Comparing the 30-Day Periods:
When we compare the two 30-day periods, we see a consistent number of homes available for sale in both August and September. However, the median list price has experienced a modest increase from $924,000 in August to $975,000 in September, suggesting a positive trend in property values. The average price per square foot has also seen a slight uptick, indicating an ongoing demand for homes in the area.
Sunland, CA community. Sunland is a hidden gem in the Foothills, known for its picturesque landscapes and serene ambiance. This tight-knit neighborhood fosters a genuine sense of community, where neighbors often come together for local events and gatherings. The area boasts a range of recreational opportunities, from scenic hikes in the nearby Angeles National Forest to leisurely strolls along the Sunland-Tujunga Wash Greenway. Families are drawn to the top-rated schools, including Apperson Street Elementary, which provides an excellent educational foundation for young learners. Sunland's convenient location also offers easy access to major freeways, making it a desirable choice for those seeking a peaceful retreat without sacrificing urban amenities. This unique blend of natural beauty, community spirit, and accessibility makes Sunland a truly special place to call home.