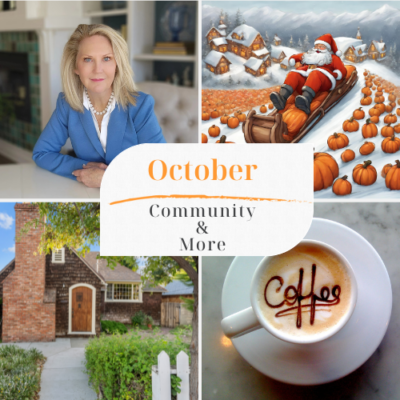 Dear Reader,
In this month's letter, I've got a mix of community and real estate topics to enrich your day. First, mark our calendars. Join me for Crescenta Commons Coffee Mornings." on the corner of Rosemont and Orange on October 6, 20th, and November 3rd. Our Crescenta Commons Coffee Mornings are a great way to connect with the community. Stay in the loop, follow Crescenta Commons on Facebook, and don't forget to check out my page, Robbyn Battles The House Agent, for all sorts of enriching content. Then, I'll brief you on the latest real estate market trends, share some holiday magic with details about my upcoming Free Photos with Santa event, and provide insights into education legislation and home-selling strategies. So, grab a cup of coffee—maybe at my next gathering at the Commons—and let's catch up!
Stay Updated with Foothill Communities Market at a Glance:  For those interested in real estate, my Foothill Communities Market at a Glance updates are a must-see.  I've got you covered with Market at a Glance updates. These quick snapshots give you the lowdown on the past 30 days, comparing them to the previous month. You'll find updates posted monthly for 13 Foothill communities on my Facebook page.
"Don't Miss Our Free Photos with Santa Event: Mark your calendars! Robbyn's third annual Free Photos with Santa event is on December 10 from 4:00 to 6:00 p.m. Our annual Free Photos with Santa Event is back and better than ever. If you've attended before, you know the festive magic we create. For newcomers, you're in for a treat! Get your free tickets and all the location details at MySantaEvent.com. This just added. I have partnered with our local Lions Club to collect pantry goods, which will be donated to The Bailey Center. So please, when you come to the event, can you bring an item or two from your pantry and leave it in one of the food drive bins?
Why Education Legislation Matters: Why do I monitor education legislation and share updates? It's straightforward: many buyers consistently ask about local schools. Understanding the latest legislative changes isn't just crucial for me; it's valuable for buyers and sellers. I was hoping you could stay in the loop by checking out my recent posts about new bills affecting our schools, freshly signed and in route to the Governor. You can find updates on TheHouseAgent.com
The Quarter 4 Myth: Thinking of holding off selling your home due to the holiday season? My latest post dispels this myth, illustrating why this period might benefit you as a seller. The numbers don't lie! Check out my post!
Selling Off-Market: Have you ever considered selling your home off-market? My recent sale on 3849 Mayfield Ave. demonstrates the advantages of this alternative strategy. Ask me why some clients choose this option over the traditional listing. And don't miss my latest Montrose off-market listing, priced at $875,000. This little cottage is oozing with charm.
Here are a few bonus articles:
Glendale Electric Rate increase
Pasadena Walktober 30 days of walking events throughout the City Pasadena Walktober Events
New La Crescenta Listing Great little 2 bedroom 2 bath starter. Great as an investment $785,000. Call for more details.
Hope you enjoy your October,
Robbyn Battles
818-388-1631